Announcement
DeLisi, Schlimm Toss Gems as 12U Hustlers Capture Crab Claw Classic Championship
Posted by
Wayne Main
on Jun 05 2016 at 05:00PM PDT
More editing options
Tournament MVP Nick DeLisi and Luke Schlimm delivered back-to-back complete game gems as the Hustlers captured the 4th Annual Chesapeake Viper Crab Claw Classic in Centreville, MD on Sunday. DeLisi got the ball in the semifinal game against the host team Chesapeake Vipers and turned in a gutsy performance. The big righthander from Monrovia, MD scattered four hits with five strikeouts and gave his team a chance to battle a solid arm in the Viper's LB Thompson. The "new fight" Hustlers did just that. After two outs in the bottom of the first, Tyler Prather and Brandon Bradshaw worked full count walks before Gabe Torres stepped in and delivered the difference-maker with a three run bomb over the right center fence. The Vipers answered with two of their own in the second and the game remained tight until the bottom of the 4th when Ryan Talbert laced a two-run single and Matt Cunningham delivered a clutch sacrifice fly. Dustin Isanogle followed with a beautiful triple in the right field corner and Andrew McElwain brought Isanogle home with a sacrifice to give the Hustlers some breathing room. The Hustlers went on to win 9-4 and punch a ticket in the Championship Game.
The Hustlers had their work cut out for them in the finale. Facing undoubtedly the best arm to date in the Delaware Diamond's Jenkins, the Hustlers needed to be solid in all phases. Luke Schlimm took care of the pitching as the crafty lefthander was magnificent. After surrendering a leadoff double and two-out run scoring single in the top of the first, Schlimm was perfect. Mixing a live fastball with a filthy curve ball, the kid with the big smile held the Diamonds to two hits with seven strikeouts over the last five innings. Offensively, the Hustlers found a way. JT Sachar led off with a walk in the bottom of the first and Tyler Prather doubled to right center to knot the game at one a piece. The Hustlers added a run in the fourth on a key Nick DeLisi double and picked up an insurance run in the fifth when Talbert led off with a single, stole second, moved to third on a Cunningham sac and scored on an Isanogle single. The Hustlers took home the trophies with a great 4-1 team win.
The Hustlers beat an undermanned Severna Park team 17-2 in the first game on Sunday.
For the tournament, Cunningham and McElwain hit .555 (5/9), Prather hit .500 (5/10), DeLisi and Isanogle chipped in with .455 (5/11) and Torres and Talbert hit .400 (4/10).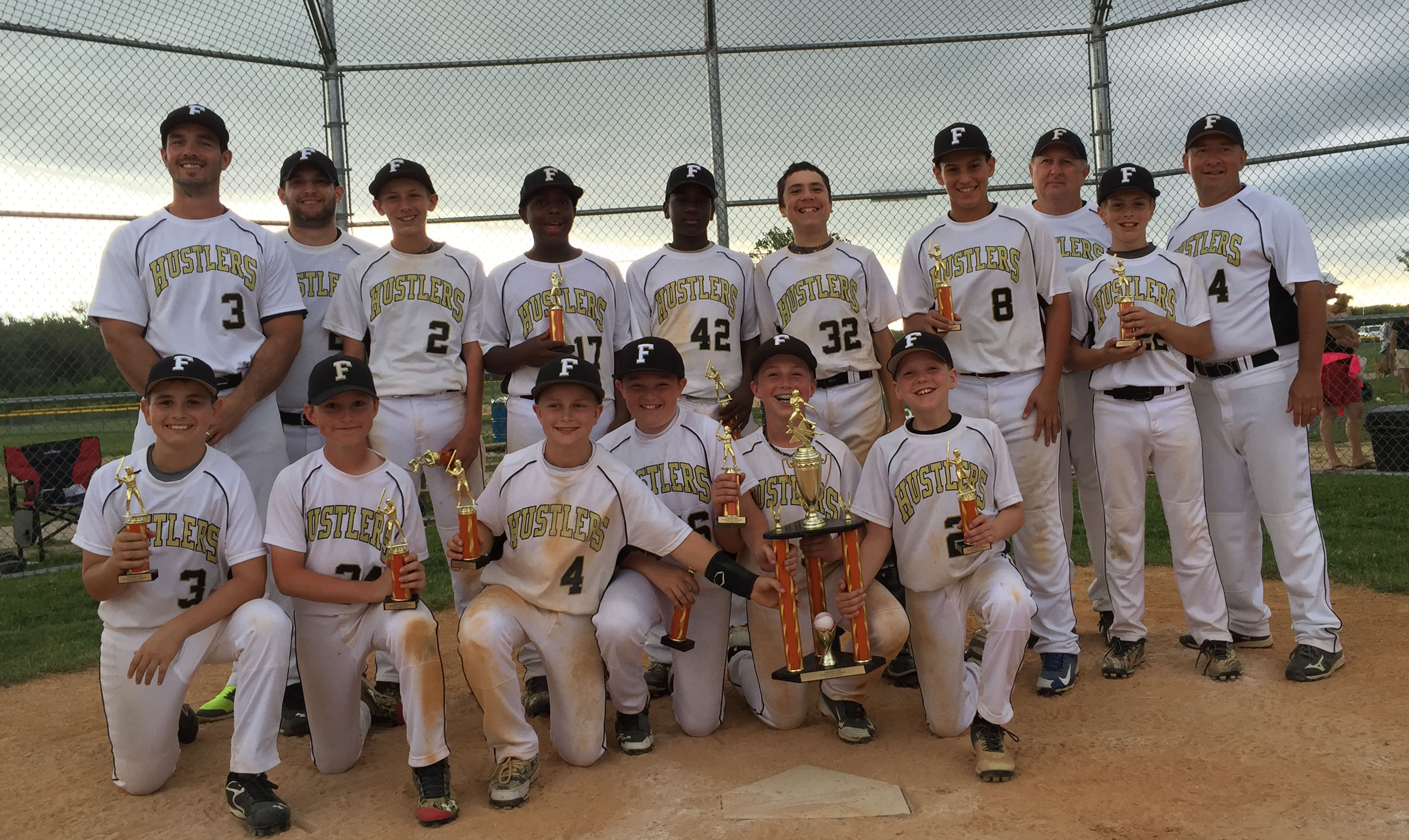 Comments
There are no comments for this announcement.