Announcement
8U Hustlers Down PBC Eagles
Posted by
Wayne Main
on May 06 2018 at 05:00PM PDT
More editing options
The 8U Frederick Hustlers took another step in the right direction on Sunday at Yellow Springs. Down 4-2 to the PBC Eagles (Pasadena, MD) in the bottom of the fourth and facing a steady rain, the young Hustlers responded with grit and resiliency. With one out, Tyce Munger took a fastball off the elbow, regrouped, and headed to first base. Landry Fowler followed with a quality AB and drew a walk. Carter Jackson then stepped to the plate and hit a bomb over the left fielder's head for an inside the park home run. "He's special," Coach Main noted. "You kind of catch yourself smiling when he hits a ball like that because you get to watch him run and he can fly." The Hustler's 3-hole hitter, Evin Kloster, than did what he does so often. He drove in Jackson with a sharp single of his own. The Hustlers had grabbed a 5-4 lead and turned the game over to Fowler who was sensational on the mound. Fowler struck out five of the six batters he faced. The other out was recorded on a nice unassisted play by first baseman Clay Hamilton. The Hustlers gave themselves some breathing room with a four spot in the fifth. Hamilton walked before Munger registered a swinging bunt single to third. After a walk to Fowler, Jackson stepped to the plate and delivered once again – this time a line drive double to right. Cody Smith followed with an RBI fielder's choice to the right side.
Smith got the start on the mound and was unusually wild. He gave up three runs in the first on four hits and a hit batter. After walking the bases loaded in the second, Jackson came in and slammed the door with two strikeouts and a fielder's choice. Jackson then tossed the 3rd and 4th innings and didn't give up a run. He struck out seven in his three innings of work.
Offensively, Jackson and Kloster led the way. Jackson had four hits and Kloster had two. One of Kloster's hits was a run-scoring triple in the third. Fowler and Munger each had a single. Fowler and Jackson each scored three run while Munger scored two.
The 8U Hustlers are back in action on Wednesday evening against the HCYP Raiders.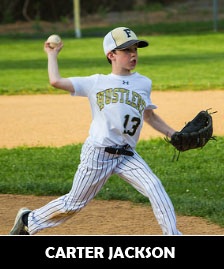 Comments
There are no comments for this announcement.