Announcement
8U Hustlers Saved by the Bell
Posted by
Wayne Main
on May 13 2018 at 05:00PM PDT
More editing options
Cooper Bell turned in a spectacular all-around performance on Saturday as the Hustlers beat a good Elkridge Hurricanes team 12-9. Bell was 3-4 at the plate with a double but his bases-loaded, two-run single in the top of the third was a difference maker. He then came up big on the mound when it looked like the Hustlers might squander a lead in the fifth. Entering the game with the bases loaded and the Hustlers clinging to a 12-8 lead, Bell recorded back-to-back strikeouts after a fine defensive play by Carter Jackson. The bottom of the sixth was more of the same. Bell caught a pop-up and fielded a comebacker to record two quick outs. The Hurricanes refused to go away quietly. A walk and a triple scored a run before Bell got another punch-out to end the game.
Cody Smith pitched two scoreless innings to start the game. Smith was helped by a double-play in both innings. With the bases loaded in the first and one out, Kai Akins fielded a hard-hit grounder, touched the runner going to second and threw to Clay Hamilton at first. Jackson then snagged a line drive in the second and threw to first for a double play. Jackson also pitched two solid innings; he struck out four but gave up three runs in the fourth when his defense let him down.
Bell and Jackson had three hits and scored two runs, Evin Kloster had two hits including a double and scored two runs, and Garrett Touchet had two hits. Smith and Tyce Munger contributed one hit a piece.
The Hustlers are back in action Wednesday evening when they play host to the Western Howard County Renegades. First pitch is scheduled for 6:00pm.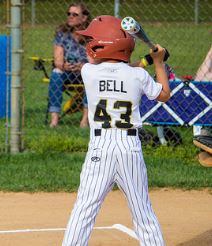 Comments
There are no comments for this announcement.