Announcement
Raiders Topple Hustlers in 8U Matchup
Posted by
Wayne Main
on May 08 2018 at 05:00PM PDT
More editing options
The Hustler home fields were full of action last night as the 8U and 9U both hosted games. The 8Us welcomed the undefeated HCYP Raiders who came into the contest 8-0 and were limiting opponents to less than three runs per game. HYCP jumped to a quick 2-0 lead in the first on a monster shot to left field by the Raiders's cleanup hitter. The Hustlers stranded two in the bottom half of the first as Evin Kloster walked and Cooper Bell singled. Cody Smith settled in and struck out three in the top of the second and then the excitement began. With one out in the bottom of the second, Garrett Touchet got things started with a walk. Tyce Munger followed with a walk of his own after a second out was recorded. Carter Jackson singled sharply to right field to set the table for Evin Kloster. Kloster stepped to the plate and hit an absolute bomb to right center - the ball bounded off the fence on one hop - and the shot cleared the bases for an inside-the-park grand slam. The visitors were stunned but got out of the inning without further damage as Smith singled but was stranded on first.
Energized and up 4-2 Kai Akins took the mound and after striking the first two hitters the Raiders scored two runs to tie the game. A great catch by Smith ended the inning. The Hustlers wasted a single by Munger and failed to score in the bottom of the third. Coach Patterson gave the ball to Kloster in the fourth and HCYP tallied two runs on one hit. Unfortunately, the defense made a few mistakes but Kloster battled and threw strikes. Down 6-4 the Hustlers scored two runs to tie the game in the last of the fourth on singles by Kloster, Clay Hamilton, Bell and Touchet. Bell then entered with the score tied at six and despite striking out two Raiders, the visitors managed to score three runs. HCYP brought in their hard throwing closer and he limited the home team to a single by Carter Jackson in the fifth. The 8U Hustlers came up on the short end in a 10-6 final.
Tyce Munger reached base in all three of his plate appearances. Hamilton and RJ Dermady played solid defensively in several positions. The evening provided a chance for a couple of new pitching opportunities and a chance for several boys to play multiple positions. "We are making great progress and showing incredible improvement – I am excited for what's to come," noted Coach Patterson.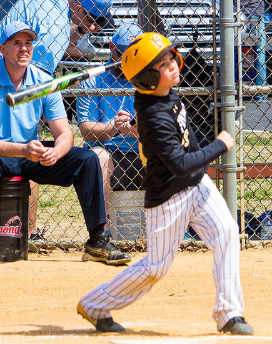 Comments
There are no comments for this announcement.