Announcement
9U Hustlers Finish Second in Pittsburgh Tournament
Posted by
Wayne Main
on Jun 27 2018 at 05:00PM PDT
More editing options
The 9U Hustlers traveled to the No Offseason Sports complex in Pittsburgh, PA to compete in the Knuckleball Knockout tournament this past weekend. The Hustlers had to be quick learners in preparation for this tournament playing MLB rules with lead-offs, balks, and the infield fly rule.
Saturday's early game pitted the Hustlers against the Cannon Mac Blaze who brought with them an impressive record of 32-4 against the toughest teams in Western PA. Chase Jones was extraordinary on the mound for the Hustlers allowing just three runs on five hits and only walking one. Damon Baker was equally imposing in relief allowing just two runs on two hits and one walk. The Cannon Mac pitching was some of the best the young Hustlers have faced all season, but the disciplined Hustlers hitters were able to score seven runs on six hits outlasting the Blaze for a 7-5 victory. Landon Rosenberg and Chase Jones both had multiple hits for the Hustlers picking up a combined 3 RBIs, while Jackson Raymond and Alex Simmons were responsible for the remaining RBIs. The highlight of the game was a tape measure moonshot by Chase Jones that traveled well over 230' before coming to rest.
In the second game, the Hustlers matched-up with Freeport. The Hustlers came out swinging in the top of the first frame scoring 6 runs and never looked back. Mickey Cammarata led the Hustlers with three hits and three RBIs. Ryan Coulby tallied 5 RBIs for the game with 4 of those coming on one swing with a grand slam in the 1st inning. Luke Wood drove in another 2 runs for the Hustlers. Mickey Cammarata and Landon Rosenberg worked effectively on the mound for the Hustlers. Eventually winning 15-8, the Hustlers took care of business on their way to the top seed going into Sunday.
Sunday's semi-final game had the Hustlers facing the Guardian Angels from Canonsburg, PA. Again, the Hustlers bats were on fire. Damon Baker, Jackson Raymond, and Landon Rosenberg each hit homeruns while Chase Jones went yard twice for the Hustlers. Seven of ten Hustlers batters had multiple hits for the game. Damon Baker and Jackson Raymond combined to allow just three hits in the game.
The championship game was a rematch between the Hustlers and the Cannon Mac Blaze. Unfortunately, the Hustlers fell flat in the final against Cannon Mac's ace, Brayden Radue. Radue held the Hustlers to just two hits en route to a shutout victory for the Blaze.
"I am proud of the way the boys played this weekend. We were challenged both by very talented opponents and a different set of rules. Our preparation this season has allowed us to be prepared for almost any test we face." commented Coach Raymond.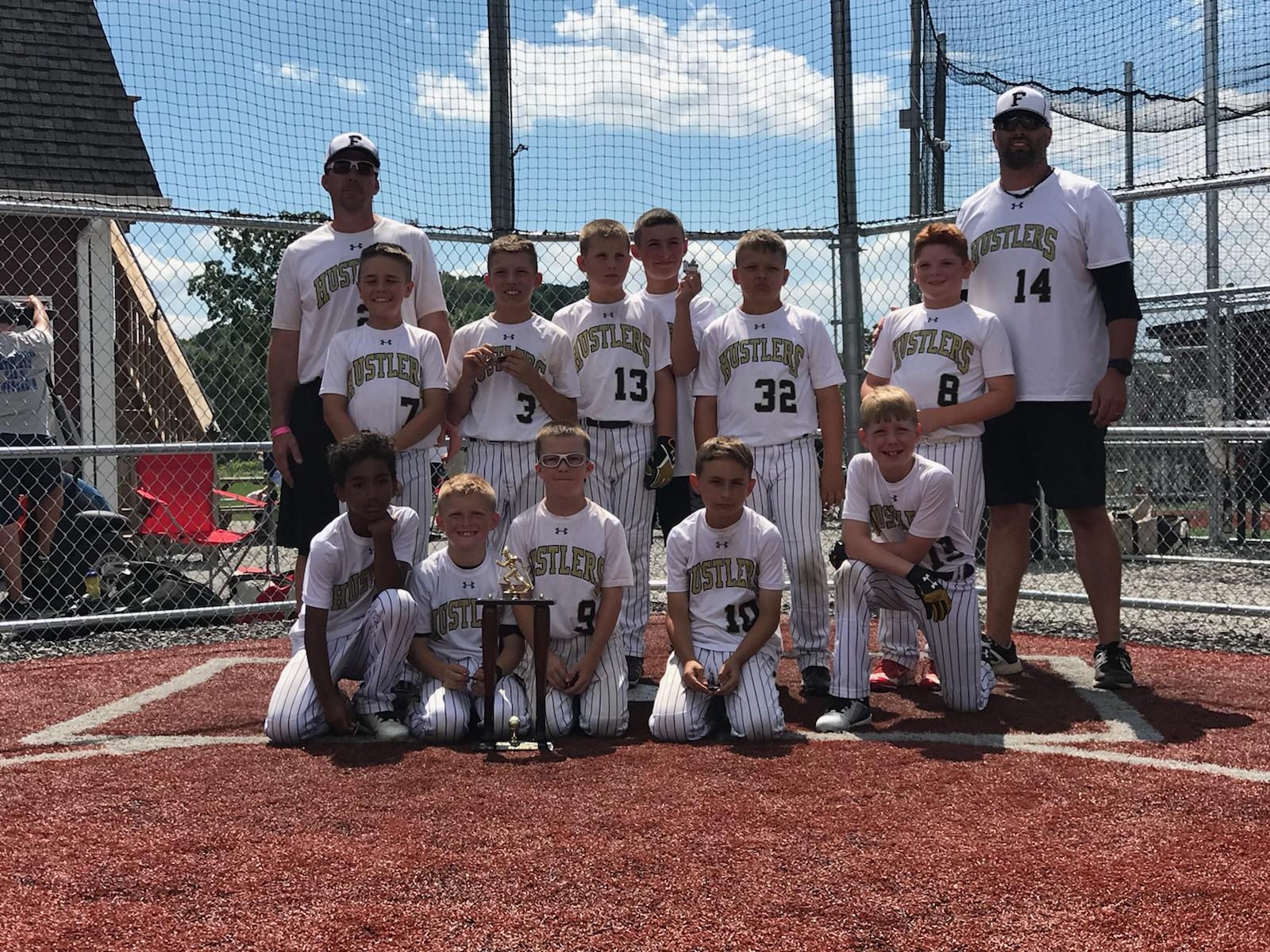 Comments
There are no comments for this announcement.