Announcement
14U Hustlers Capture Elite Baseball Championship at Millersville University
Posted by
Wayne Main
on Jul 01 2018 at 05:00PM PDT
More editing options
For the better part of the summer, the 14U Frederick Hustlers have been knocking at Championship's door only to have it unanswered. Most recently, there was a third place finish at Perfect Game's 22-team North Carolina Super Qualifier and a runner-up finish at Ripken's Highlight Reel tournament in Aberdeen. Sunday afternoon - with a heat index reaching 104 degrees – the Hustlers drew from those near misses and knocked the door down while capturing the Championship at Elite Baseball's 14U Summer Blast at Millersville University in Lancaster, PA.
Facing elimination in their semifinal game against a talented Batter's Box Elite squad out of the Collegeville, PA the Hustlers would not be denied. The two teams had fought to a 5-5 tie in an early seeding game on Saturday morning and the PA team had other ideas on Sunday morning. The usually strong and reliable Nick DeLisi (Good Counsel) started for the Hustlers but simply didn't have it. DeLisi surrendered three hits, two walks and a hit batter and the Hustlers quickly found themselves in a 4-0 hole after a half inning of play. Facing a tough Batter's Box arm, the good guys got one back in the bottom half when Colby Patterson (Good Counsel) opened with a sharp single and Matt Kulikowski (Boonsboro) doubled. "That answer, albeit one run was huge," commented Coach Main. The Hustlers then went to the bullpen for Matt Cunningham (Linganore) and the big right-hander proceeded to strike out the one, two and three hitters in order. Momentum had changed hands. "Matt was so good. His fastball had life and his breaking ball was sharp. He was dealing. The question was whether we could score enough," noted Main. That answer came right away as the Hustlers scored four runs of their own in the second to take a 5-4 lead. The big blow was a 2 RBI single by DeLisi. The Hustlers added one more in the fifth when Cunningham doubled and Adam Dellamura (Walkersville) singled. Cunningham worked five scoreless innings and only allowed four hits and struck out six. Dellamura threw a scoreless seventh and the Hustlers had escaped with a tough, 6-4 win.
The Championship game was over shortly after it started. The Hustlers were matched up against the #1 seeded OTP (Own The Plate) Railsplitters out of State College, PA. The Railsplitters had outscored their four opponents in the tournament by a margin of 46-10. The Hustlers batted around in the top of the first with a big RBI single by Cunningham and RBI doubles by Tyler Prather (Frederick) and Dalton Williams (Catoctin). The rout was on. DeLisi and Dellamura shared pitching duties and both were effective.
The Hustlers got great pitching throughout the tournament. Dellamura and Dustin Isanogle (Catoctin) each tossed two scoreless innings in an 11-0 win over the Diamond Pros (Baltimore) on Saturday morning. Tyler Prather tossed an abbreviated no-hitter with two strikeouts against the PA Playmakers out of West Chester,PA in the first game on Sunday. Williams and Patterson both threw well in the Saturday game against Batter's Box Elite.
Offensively, the Hustlers got production throughout the lineup. Colby Patterson hit .500 and scored 11 runs out of the leadoff spot. Cunningham hit .500 with six RBIs. Matt Kulikowski was 6-14 (.429) with 11 RBIs. DeLisi was 6-15 (.400) with 8 RBIs. Gabe Torres (Clarksburg) was 4-11 with seven RBIs. Jack Putnam (Thomas Johnson) hit .333 and Dustin Isanogle hit .300.
Isanogle caught all three games on Sunday in the heat. "You wish you had more Dustin's on the team. He brings so much energy, he loves to play and hates to lose. That's a pretty good combination," noted Main.
The Hustlers travel to Cary, NC (USA National Baseball Training Complex) this weekend for the 14U Cup.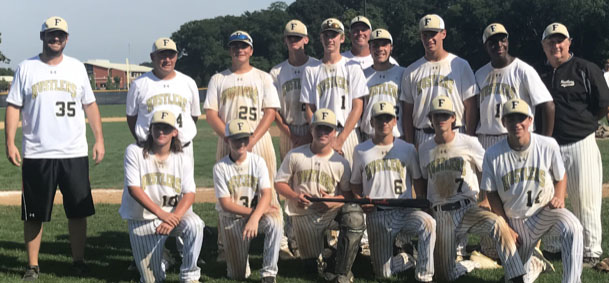 Comments
There are no comments for this announcement.